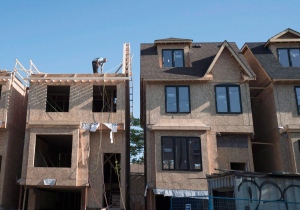 The pace of new home construction sped up for the seventh month in a row in July, to an annualized rate of 217,550 new units.
The Canada Mortgage and Housing Corporation said Wednesday that British Columbia and Alberta were the two biggest contributors to the ramping up. Manitoba was sharply lower, while Quebec and Ontario were largely unchanged — although Ontario has averaged around 80,000 units all year, "some of the strongest building activity of the past 20 years," BMO economist Robert Kavcic noted.
"Canadian homebuilding activity remains robust, supported by a spurt in population growth," he said.
On a national level, most of the gains came from multiple units buildings such as condos, which increased by more than nine per cent to a pace of almost 230,000 units in the month. Construction of single family homes, meanwhile, declined by about four per cent to an annual pace of 77,000 units.
"The details are softer than the headline given the emphasis upon multiples that carry less average value-added over a longer construction period, but it is still a resilient overall tone to the report," Scotiabank economist Derek Holt said of the numbers.